PhotoAcute 2.0 for Nokia 3650
PhotoAcute significantly improves the quality of pictures snapped by the phone built-in camera.
Last update
20 Mar. 2006
Licence
Free to try |

$18.95
OS Support
Mobile
Downloads
Total: 578 | Last week: 1
Ranking
#10 in Multimedia
Publisher
Almalence, Inc.
PhotoAcute 2.0 for Nokia 3650 Publisher's Description
PhotoAcute significantly improves the quality of pictures snapped by the phone built-in camera.
By applying state-of-art image processing techniques, it allows to achieve up to 4-times increase in resolution, practically turning the 300 kilopixel camera into 1.2 Megapixel one.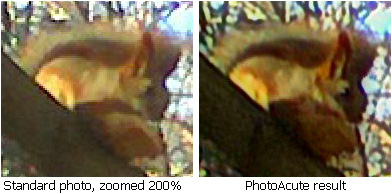 PhotoAcute features:
*
1280x960 picture size instead of 640x480 (it''s not a zoom!)
*
Pictures with fine details that are usually invisible/indistinguishable
*
Automatic picture noise reduction
*
Barrel distortion correction
*
Interlacing artefacts removal
*
Improving brighteness at the edges of picture
Have you ever dreamed of snapping the high-quality images by your phone built-in camera?
The images, with quality enough to put them on web. The group portraits, where each person can be recognized. Nature in all its beauty. The photos, that can be examined closely.
Now imagine, that your 300Kpixel camera is turned to 1.2Mpixel one. Amazingly, it''s possible just by installing the PhotoAcute application.
Size matters
The standard dimension of photos in Nokia 3650/3660 is 640x480. PhotoAcute snaps 4-times larger photos (1280x960).
Details make the difference
PhotoAcute photos have 4-times more pixels than the standard photos, thus giving you 4-times more details. Small, thin and far objects, traceries, textures and inscriptions become recognizable.
How does it work?
PhotoAcute makes several snapshots in series, thus acquiring more graphic information. Using sophisticated, proprietary algorithms it combines the individual snapshots to produce one large-sized and high-quality image. It also performs image processing to make it sharper and remove defects.
What's new in 2.0 version: Large photo from SINGLE snapshot, faster snapping, less memory used, and more!
More information: www.photoacute.com
Note:
this version is tuned for Nokia 3650/3660 model. If you have Nokia 6260/6600/6260, please download PhotoAcute 2.0 for Nokia 6260/6600
For SonyEricsson models, please download PhotoAcute 2.0 for SonyEricsson P800/900/910
Look for Similar Items by Category
Feedback